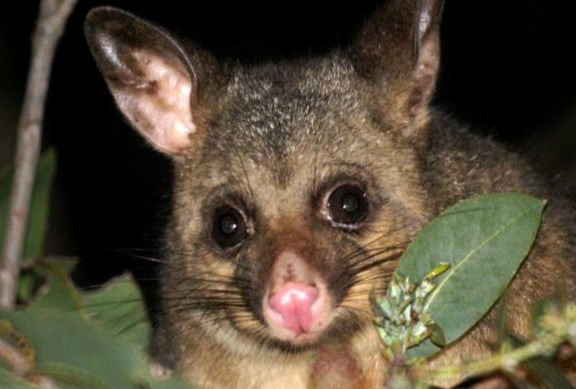 What is possum?
The possum is not a unique species of New Zealand at first. They were marsupial mammals from Australia. Mother possums usually carry their babies in their own pouches, just like kangaroos and koalas. Baby possum crawls over the fur of mother possum and enters her baby pouch, where it can suck on mother's teat. The baby possum needs to stay in the pouch for four to five months. When the mother's pouch is not big enough to wrap the baby possum, it will ride on the mother's back and continue to grow until it is 7-9 months old.
Since the mother possum is only pregnant for 16 to 18 days before her baby is born, the baby possum is only about 1.5cm long and 2 grams heavy.
How did possum come to New Zealand?
Possum has naturally thick and soft fur. It is an ideal choice for fur products. In 1837, some of New Zealand's early settlers decided to start a fur industry there, so they brought Australian possum varieties to New Zealand. But these first possums did not survive, but people worked hard for it until they succeeded 20 years later, and the first possums finally survived on the South Island of New Zealand.
In 1921, with the support of the New Zealand government, more possums were introduced to New Zealand. They breed at an alarming rate, and according to statistics, possums can be easily found in 450 different areas of New Zealand. In 1946, the possum was officially declared a pest in New Zealand. However, this policy did not prevent the breeding of possums. By 1950, more than half of New Zealand areas had found possum, while their population was still growing.
In New Zealand, a possum is mostly black or grey because most of the possums arrived in New Zealand in the 19th century from Tasmania, Australia, where possum is generally darker, while bronze possum living in Queensland, Australia, was not introduced to New Zealand because their colour was not so popular in the fur trade at that time.
New Zealand's Fiordland and northern areas were the last areas where possum was found in New Zealand. In the 1960s, there was hardly any possums in Northern areas, but in the 1990s, only 30 years, investigators found about 10 million possums in Northern areas.
The number of possums reached its peak in the 1980s when New Zealand had about 500,000 to 700,000 possums. Once the possum population becomes very high, hunters begin to profit by hunting. Throughout the 1970s, the possum's price was optimistic in the fur market. In 1981, it was the best year for hunting possum, exporting nearly 3.2 million possum skins.
Traps, poisons and hunting have greatly reduced the number of possums, but today there are still about 30 million possums in all parts of New Zealand!
What's wrong with possums?
Possum is a serious pest in New Zealand, which poses a serious threat to New Zealand's forests and local wildlife. They eat leaves, flowers, fruits, eggs, insects, birds and so on. In a word, all the products can be eaten by possums.
People used to think that possums only eat plants, but in 1993, a photographer unexpectedly photographed possums using chickens, beef and mutton as their food source. They even eat the nectar and berries that local birds like best. As a result, owing to the occupation of possum, the food sources of birds have been greatly reduced, which has led to a sharp decline in the number of birds in New Zealand.
One night, possums can eat about 21,000 tons of leaves and flowers. As you can imagine, when you sleep, many forests are disappearing. The possums also eat the giant snails. A possum can eat about 60 giant snails one night.
In addition, possum also carries a tuberculosis disease that can spread to cattle, causing about $35 million in economic losses to New Zealand farmers every year. According to this situation, the New Zealand government has taken measures to control the number of possums, which costs more than $110 million annually.
What's the use of possums?
Possum fur is extremely soft and warm. It can be used to make clothing, accessories and houseware. Possum fur can also be mixed with Merino wool to make knitted yarn. In addition, some New Zealand food companies have found high-quality protein in possum, which is rich in healthy substances such as omega-3 and omega-6. Some New Zealand companies also use possum as the main ingredient in pet food for cats and dogs. In the 1980s, the possum was also exported to Taiwan, Hong Kong and Malaysia for people to eat. In these countries, possums are considered a special delicacy.
The fibre of possum fur is quite unique, and its fibre is hollow. There are only two animals in the world whose fibres are hollow. Apart from the possum, the other one is a polar bear. Hollow fibre is a special existence of nature. Hollow fibre is softer and lighter than ordinary fibre, and it can make high-quality possum jackets.
The quality of possum fur is usually related to its density. Density refers to the density of possum hair, which is determined by the number of follicles and the number of villi in each follicle. The number of follicles is determined by genes and is also affected by food, temperature and season. Whatever season and weather conditions, the densities of marten fur in New Zealand are very high, because in New Zealand they have sufficient food and clean water, and these external conditions allow the marten population to grow adequately.
Possum products have natural warmth, and fur is extremely soft. Possum fur jackets are very suitable for wearing in cold weather. It can automatically adjust the temperature, just like your second skin. Possum throws are hand-made from the finest brushtail possum fur. These possum throws look luxurious, feel soft and are very easy to maintain. Two natural colours, brown and grey, can be used with any home environment to make your room look elegant and comfortable.