History
Founding
In the early 1980's, Bonnie Rodwell (the company's founder) was standing at a domestic New Zealand airport. It was here that American tourist commented on her hand knitted jumper, asking where she purchased it as they would like to buy one also. Bonnie had knitted the garment herself and was unaware of anyone selling a similar product in New Zealand at that time. While unable to help that tourist, the question got Bonnie thinking – was there a business here? After research, Bonnie confirmed her assumptions - there was no-one supplying handmade woollen garments at any scale in New Zealand. It was not long after that BONZ 'Best of New Zealand' was born, aimed at providing high quality, sustainably produced, New Zealand designed and made fashion (primarily knitted) to the global market.
Development
After success wholesaling handknits in New Zealand's North Island, BONZ opened its first retail store in Sydney, Australia. The proceeding 35 years has seen BONZ open 14 stores throughout Australia and New Zealand, while expanding its range from just handknits to include leather jackets, machine knits, accessories and a full range of home goods. We are proud to say that products in our range have received industry accolades for quality and sustainability. We are also honoured to now be able to provide financial support to many worthwhile causes, from education to conservation. From its simple roots, the BONZ of today is a truly global brand, and one that we hope New Zealander's are proud to say is their own.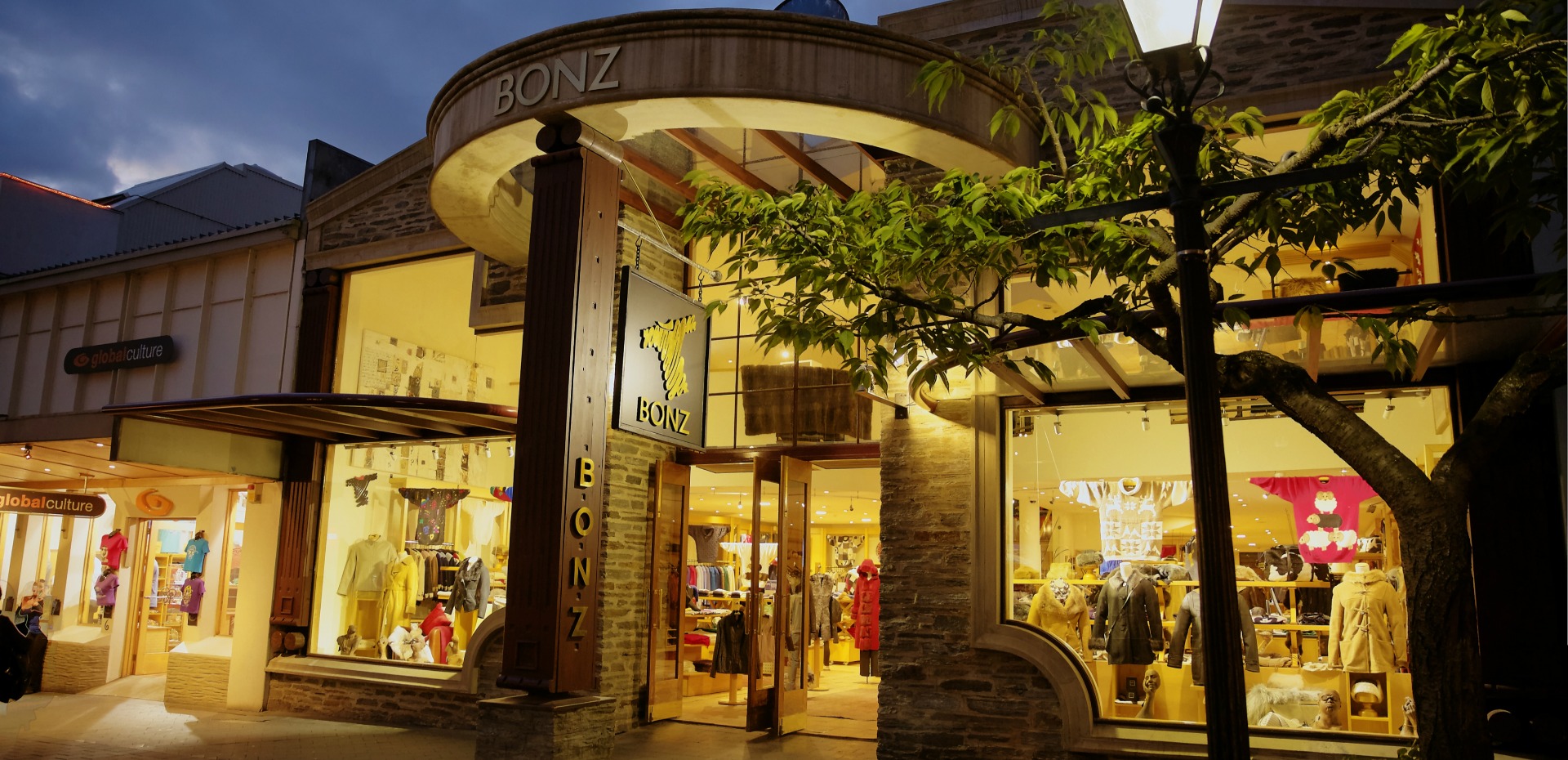 Philosophy
BONZ is about providing the very Best of New Zealand. This philosophy extends beyond the bounds of product design, driving the way we procure materials, produce our garments, and run our retail stores. Our Lamb skins come only from farmers that meet our strict animal welfare requirements and possum skins only from certified New Zealand hunters. The products themselves are designed and manufactured by hand in Invercargill, New Zealand under the principals of quality, durability and sustainability. We use minimal machinery and no automation in our production, which allows us to reduce wastage and minimise product defects. Our designers travel the world in search of the latest fashion trends, keeping certain collections at the forefront of global fashion. It is our passion to give the world the very best of what New Zealand can offer – it is what guides our business and drives our product design!
CRAFTED BY NATURE - PERFECTED BY BONZ
Be inspired by Bonz